Discussion Starter
·
#1
·
SPOTTED: SUPERCAR SPECIAL
A sub-£100K McLaren SLR prompts the question: why does the market seem to hate Mercedes supercars?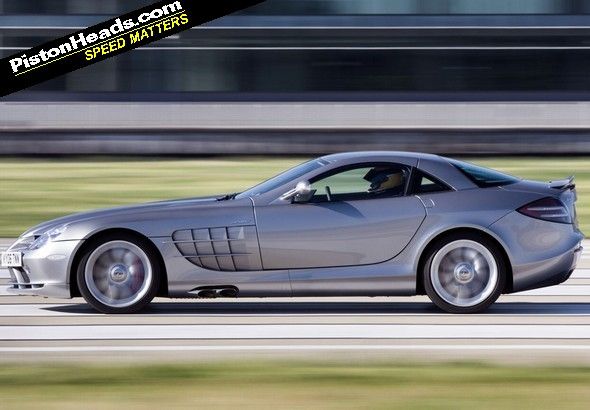 Some cursory glancing at the classifieds recently threw up this rather interesting SLR. Yes, it has done a lot of miles for such a car - check out the shiny steering wheel, attesting to its 50K-plus miles - but surely this is a hell of a lot of engineering and performance for a smidge less than £100K?
And the depreciation issue is an interesting one for Mercedes supercars. Even the best examples of the McMerc struggle to command more than half the original. This is especially intriguing when its values are compared with that of its closest contemporary, the Porsche Carrera GT. Most examples of these have in fact appreciated from the £320K price point it originally shared with the McLaren Mercedes.
And whilst some level the 'mainstream manufacturer' criticism at the SLR, how do you therefore explain the rock-steady values of the Ford GT? This was powered by a V8 derived from a pick-up no less, and yet its blue-collar origins have done nothing to dent its used prices, with some examples again appreciating in value.
Moreover, it was argued the 'confused identity' of the SLR, with its McLaren-designed carbon tub allied to a Merc auto and supercharged V8, resulted in its rather negative press and public reaction. But now the two have separated, employed solely their own ideology on respective supercars, and yet still the market struggles with a 200mph car with a three-pointed star. The first SLSes can now be had for £110K with very few miles, while not a single MP4-12C is available in the PH classifieds for less than its £168,500 list price.
It's not like Mercedes doesn't have form, the original 1954 300SL Gullwing regularly cited as the very first modern supercar and there being no lack of motorsport success and credibility over the years on which to draw upon.
Whatever the reasons, Merc supercars look like something of a bargain right now. And just to underline the fact here are some competitors...
Ferrari 360 CS - £133K new, now still £90K plus
Lamborghini Gallardo LP560-4 - one year older than SLS and more miles, £115K
Ferrari 458 Italia - the cheapest right-hand drive one available is £184,286
Source:
http://www.pistonheads.com/news/default.asp?storyId=25892