Discussion Starter
·
#1
·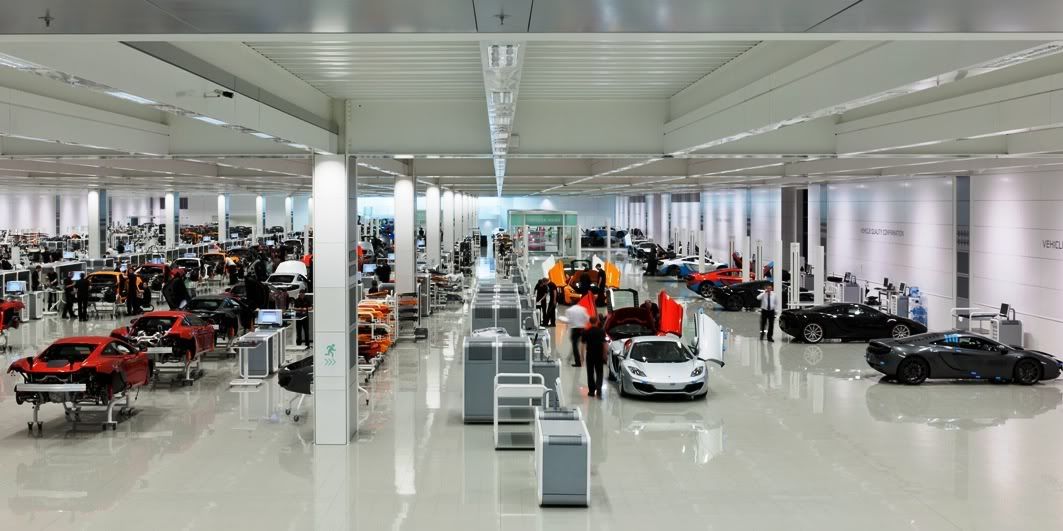 UK PRIME MINISTER DAVID CAMERON VISITS McLAREN TO OPEN BRAND-NEW McLAREN PRODUCTION CENTRE
Nov 17, 2011
Ron Dennis (Executive Chairman, McLaren Group and McLaren Automotive) outlines McLaren's ambitions for 2012 and beyond
Just like our racing cars, the McLaren Group never stands still – and you may like some of the pioneering new directions we're taking.
McLaren is more than just a builder of beautiful and successful Formula 1 cars: we're a relentlessly competitive entity, bred on high-performance and determined to bring to market ground-breaking products and solutions that are set apart by their top quality and dependence on totally unique and highly innovative steps in performance.
To take just one example, we're poised on the verge of a hugely exciting automotive programme with our high-performance sports car, MP4-12C.
And today's visit to McLaren by Prime Minister the Rt Hon David Cameron MP is a statement of intent: that we're committed to building a homegrown sports car manufacturer to take on the likes of Europe's and North America's giants.
But that's not all.
Through everything we do, we're absolutely dedicated to fostering the rebirth of one of Great Britain's industrial cornerstones: beautiful and meticulously crafted high-tech industrial design and manufacture.
Design and manufacturing have been at the backbone of British industry for more than 100 years, and are activities that we as a company not only passionately believe in, but consider of primary importance to the future economic growth and recovery of the United Kingdom.
It's a philosophy that is at the cornerstone of McLaren Group chairman Ron Dennis's view for the future of the Group.
He said:
"Through everything we do, McLaren strives to find the solution.
"We never stop. We exist to go faster; to be state-of-the-art; to innovate; to perform with belief, flair and passion; to be the absolute best at what we do. And everything that McLaren is has been built on the founding principles of good design and solid, seamlessly efficient engineering and manufacturing.
"Since the dawn of the industrial revolution, great minds such as George Stephenson, James Watt, Matthew Boulton and Isambard Kingdom Brunel have brought tremendous and justified acclaim to Great Britain via their relentless innovation and restless desire to deliver societal benefit.
"But, in the UK, there has been an over-reliance in the past on the financial and service sectors. Now, industry is realising that Britain's grand manufacturing tradition is a solid platform upon which to build – and I want the McLaren Group to play its part in the crucial recalibration of UK plc.
"I'm delighted that the Government is embracing that initiative too: we need to encourage young people to embrace the STEM subjects, by which I mean, science, technology, engineering and mathematics.
"This should not trigger the abandonment of the arts – of which I am also a keen patron. However, I firmly believe it is the role and duty of British industry to offer STEM graduates the appropriate destination jobs – the provision of a worthwhile career path that ensures that our brightest scientists, technicians, engineers and mathematicians aren't lured into finance or banking – simply because they feel that engineering cannot compete to offer equal satisfaction or reward."
As Ron Dennis's words make apparent: our vision is clear, and the means by which we achieve it are rich and diverse. We are proud that McLaren is a British industrial icon, but there is more to us than you may imagine…
Vodafone McLaren Mercedes
The historic cornerstone of our business, a household name within the UK and one of the most prestigious brands in world sport. With 175 grand prix wins and 20 world titles achieved by a roster of talent, including our world champions – Emerson Fittipaldi, James Hunt, Niki Lauda, Alain Prost, Ayrton Senna, Mika Hakkinen and Lewis Hamilton – our Formula 1 team has rightfully become one of the most famous and established in the history of the sport.
◦ 702 grands prix, 175 grand prix victories
◦ 12 drivers' championships & eight constructors' championships
◦ Six grand prix victories so far in 2011 with our drivers Lewis Hamilton and Jenson Button
You might be surprised at what we're doing next:
◦ Completing a four-day technical test in Abu Dhabi with Gary Paffett and Oliver Turvey
◦ Freighting spares and chassis to Brazil for the final race of the 2011 season in Sao Paulo
◦ Preparing build-work on next year's car, MP4-27 – we are nine months into the development programme and have already stored 18,918 individual components from more than 3,000 different works orders and signed off more than 5,500 technical drawings.
For more information, go to
www.mclaren.com/formula1
McLaren Automotive
In the past decade, McLaren Automotive has become a ground-breaking British automotive powerhouse that is successfully taking on the giants of the European, Asian and North American sports car market. McLaren Automotive intends to become renowned not only as a premium automotive brand, but also as a high-volume high-performance sports car manufacturer with the presence and range to co-exist and compete with the most established supercar brands in the world.
◦ The creation of what was then the world's fastest ever production car, the 1994 McLaren F1
◦ Manufacturing and assembly-line expertise with the Mercedes-Benz SLR McLaren
◦ Mercedes-Benz SLR McLaren becomes world's highest-volume 200mph-plus high-performance sports car – 2,153 units built
◦ MP4-12C – the world's most advanced high-performance sports car – is launched in 2011
◦ MP4-12C is hailed by critics as "the most complete supercar the world has ever seen" (CAR magazine) and "the most capable supercar on the planet right now" (Pistonheads)
What we're doing next:
◦ Officially opening the Foster + Partners-designed McLaren Production Centre
◦ Rolling out 35 global dealerships between now and the end of 2012
◦ Preparing our works and customer GT3 racecar operations for their first full season of competition in 2012
◦ Working on the design of a range of game-changing high-performance production cars whose launch will take our annual production to 4,500 cars per year by 2014
For more information, go to
www.mclarenautomotive.com
McLaren Applied Technologies
McLaren Applied Technologies successfully mines the rich seam of accumulated knowledge within the Group to resolve a diverse and fascinating series of third-party technical projects and collaborations. Recent projects have capitalised on our unique expertise in applying simulation, modelling and telemetry to achieve greater performance, used our technical and strategic know-how within the sporting world or simply harnessed our world-class understanding of carbon-fibre.
◦ Successfully collaborated with National Air Traffic Services to improve ground-level air traffic efficiency for airports, including Heathrow
◦ Providing telemetry and engineering design assistance to five British Olympic teams: canoeing, cycling, rowing, sailing and winter sports
◦ Providing telemetry and data management to professional football and RFU teams
◦ Collaborated with bicycle manufacturer Specialized to provide carbon-fibre lay-up expertise for the S-Works + McLaren Venge – the bike that took of Mark Cavendish to the Tour de France's green jersey and the road race world championship
◦ Working with GlaxoSmithKline to develop software to improve the time-to-market of new pharmaceutical products, among other high-tech collaborations
◦ Pioneering human telemetry for health and wellness – already applied to executives in high-performance positions and also for weight-management
◦ Created the McLaren High-Performance Centre – a simulation and training tool for racing drivers and engineers
What we're doing next:
◦ Planning permission submitted for the McLaren Applied Technologies Centre – to be built on ground adjacent to McLaren Group's current premises
◦ Commencing specification and design of the new McLaren GSK Centre for Applied Performance – an engineering centre of excellence
◦ Kicking off a new five-year deal with Specialized for development of the new top-of-the-range S-Works SL4 carbon-fibre road bike
◦ Working with marine competition teams
For more information, go to
www.mclarenappliedtechnologies.com
McLaren Electronic Systems
With more than two decades' experience on the racetrack, and with centres in Woking, UK and North Carolina, USA, McLaren Electronic Systems has grown into professional motor racing's leading supplier of electronic control and data systems. Honed in some of the most hostile and competitive environments in world sport, McLaren Electronic Systems has continued to develop a series of technical solutions that sit at the cutting-edge of technical know-how while remaining user-friendly and mechanically bullet-proof.
◦ A software pioneer within motorsport since the company first raced at Le Mans in 1991
◦ Complete electronic control systems in Formula One since 1993
◦ Sole provider of engine control units to the IndyCar series since 2007
◦ Official supplier of engine control units to the FIA Formula 1 World Championship since 2008
◦ Official engine control unit of NASCAR from 2012, provoking the biggest single change to the engine in 60 years
◦ Winner of Queen's Award for Innovation in 2009
What we're doing next:
◦ Official supplier of master control units for Formula 1's new 2014 powertrain
◦ Developing and manufacturing advanced automotive control systems and powertrain solutions for high performance road cars
◦ Supplying engine control units for piston-engine aircraft engines
◦ Providing data and video systems for the Bay Area Rapid Transit (BART) system in San Francisco
◦ Developing data and telemetry systems, based on Formula 1 experience and technology, for use in acute paediatric care (in collaboration with Birmingham Children's Hospital, Health Foundation and Vodafone)
◦ Exploiting real-time data systems from Formula 1 in large sensor network solutions ('machine-to-machine' or M2M applications)
For more information, go to
www.mclarenelectronics.com
Source:
http://media.mclarenautomotive.com/release/110
>8^)
ER