Discussion Starter
·
#1
·
We might just have seen the back of the salt snow and muck for a day or two, and although I had decided that this car just HAS to be appreciated ALL year round, I thought it prudent to remove all traces of salt and mud etc before it causes any damage. Obviously this means getting at the suspension, and although my Karcher jet wash does a good job, I wasn't sure if it was good enough, so I had to remove the wheels to look. The answer = it wasn't.
To get the wheels off though, proved a real problem. First the car was too low to get the jack under it, and then where could I safely position the jack? Those were the least of the problems though as McLaren have built this car to stay fully assembled, right down to the wheels. They were torqued up to about 400, and just getting off one wheel (five nuts) broke two of my sockets. Draper nil: Mclaren 2! I thought Draper was good quality! So now I had to go to the local tyre depot and get them to loosen off the nuts, even the mechanic there thought them a bit over tightened! Now to get the wheels off. I pre-jacked the car up a bit with pieces of wood, so I could squeeze the jack under, and felt for some bolts on the chassis so there was a solid place to jack it up. Now bearing in mind that I had already used a jet wash to do the best job possible, there was a lot of debris remaining up at the front of the front wheel arch, AFTER jet washing. Also a lot of debris still on the suspension AFTER jet washing, only fully removed with the wheel off. I reckon the car with the new suspension raise will make this all much easier.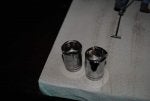 note completely split!!
still much debris after "blind" washout
also AFTER my best attempts to clean suspension with wheel still ON.
[/ATTACH]
and suspension now clean!