One of the most popular systems for the 12C/650S is now available for the new 720s. Similar to previous McLarens, the exhaust comprises of the downpipes and a rear section. Fabspeed has replaced both of those for an aggressive, free flowing system that not only sounds amazing, but adds power by removing the restrictive OEM cats.
Replace the four restrictive McLaren 720S OEM 650 cell catalytic converters with two ultra high-performance 200 cell HJS German-Imported Tri-Metallic high flow catalytic converters for improved performance and hypercar sound.
Fabspeed Motorsport USA was the very 1st company in the world to design, engineer, dyno and develop performance parts for McLaren cars. Fabspeed has the most experience and knowledge of any company on these cars.
Utilizing our two development McLarens, MP4-12C & 570S including a new in-house 720S, we've experimented with many designs and were able after much testing and engineering to craft the highest quality catted downpipes on the market. We are utilizing bullet proof, high flow 200-cell HJS German Imported HD catalysts that flows 93% to 95% of a straight pipe for most possible power especially when paired with a tune, and ultimately a superior solution. Fabspeed Motorsport invested a lot of time and resources into developing the best possible McLaren downpipes and we're now proud to offer you this latest and greatest solution. McLaren is constantly updating their vehicles and offering even better performance, and we're dedicated to doing the same. Fabspeed Motorsport is the world's authority for aftermarket McLaren performance.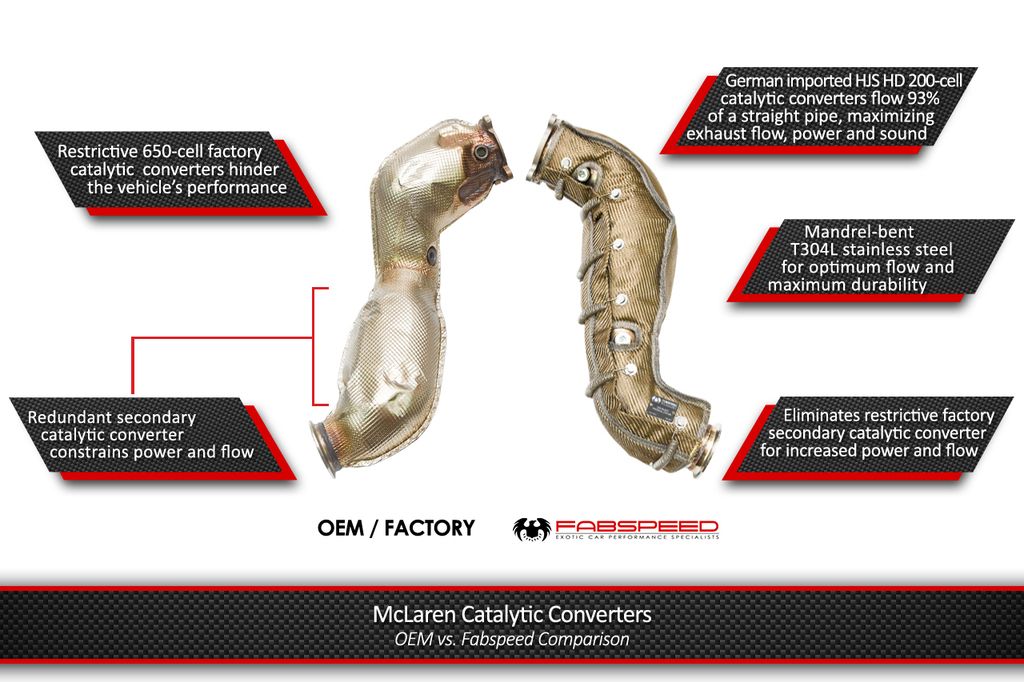 HJS HD German Imported 200-CELL CATALYSTS:
HJS Germany manufactures the highest quality catalysts in the world. Fabspeed has incorporated 200 cell-HJS HD catalysts into our latest design to maximize horsepower. Our complete redesign incorporates these high flowing catalysts in conjunction with military spec thermal heat blankets and makes incredible power gains by themselves and maximum power when paired with a complete Fabspeed exhaust and ECU Tune package.
HEAT BLANKETS:
Keeping heat in the exhaust maintains the maximum velocity of exhaust gasses, allowing the turbos to spool faster while ensuring maximum power is extracted through increased thermodynamic efficiency and flow. Fabspeed thermal blankets are rated to 1800 degrees. T321L Stainless steel mesh over a 321L stainless steel inner liner covering ceramic insulation makes direct contact with the downpipes. The basalt fabric exterior covers sewn with stainless steel mesh covering all edges and high quality stainless steel spring fasteners ensure longevity. Fabspeed thermal blankets are exclusively manufactured by a military defense contractor!
High-flowing LT Style pipe replaces the heavy and restrictive OEM exhaust system for maximum increase in performance and sound.
Fabspeed Motorsport developed our exhaust system with direct Solidworks flow analysis in order to maximize the flow characteristics and performance qualities. The Fabspeed LT Style pipe was designed to significantly outflow the $5000 factory optional race exhaust system. Exhaust flow is smoothed out for a more pleasing, exotic sound and increased power to match.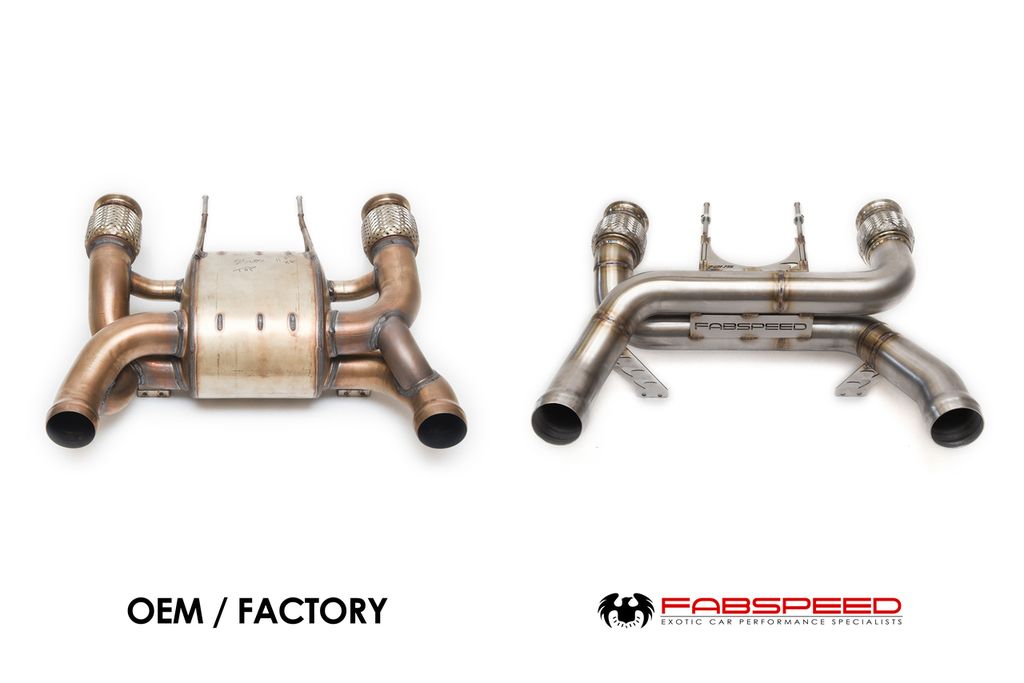 Looking for a more aggressive aesthetic for the rear of your 720S? Look no further. Fabspeed's bolt-on Dual Titanium Tips give the rear end of any 720S a sleek and custom appearance; appropriate for the street or the racetrack!
Please feel free to PM me with any questions or for forum pricing
Check out our full 720S line:
http://www.fabspeed.com/720s/
​