NEW! MAcarbon Carbon Fiber Integrated Extended Shift Paddles
---
NEW! MAcarbon 'Integrated Nicoles' Extended Shift Paddles For McLarens
Application: Every McLaren since 2011 (12C, 650, 670, 570, etc.)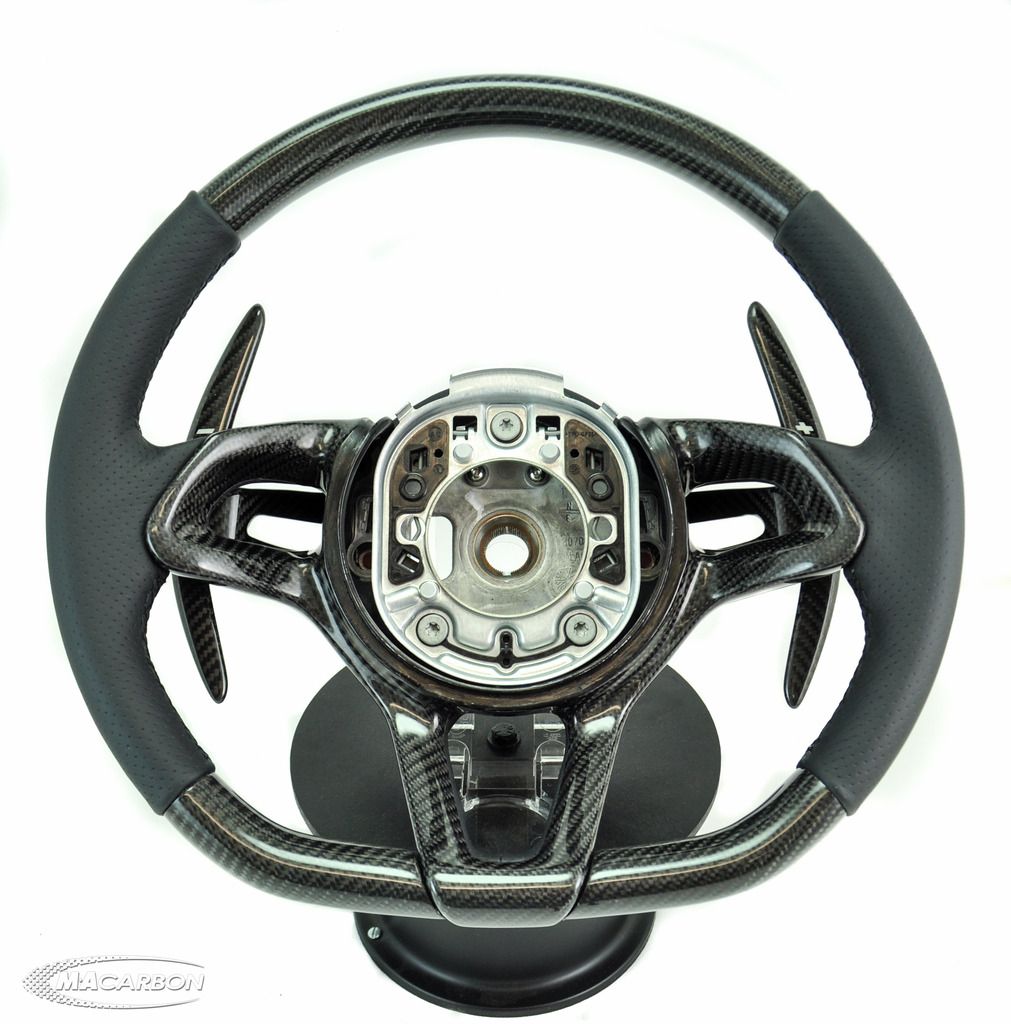 Since the McLaren MP4-12C burst on to the scene in 2011, we have been offering our extended shift paddles 'Nicoles' for it and all of the McLarens since.
The 'Nicoles' have been a great seller for us and everyone that has purchased them has loved them. They offer an extended area for shifting (we know you don't drive with your hands at 9 and 3 o'clock all the time), they look cool, and they are super easy to install by the customer. Being easy to install is a key factor, since McLaren dealerships are few and far between.
I really like the way our standard 'Nicoles' look and dig the contrast from the OEM paddle to the carbon extensions, but there have been customers and potential customers that want the "integrated" look of the MSO carbon paddles from McLaren.
For those customer's that want the clean integrated look, we are now offering a solution. We take the factory paddles and graft our Extensions on, making one complete shift paddle unit that's seamless and sexy.
Check out the 'Integrated Nicoles' on our website here:
https://www.macarbon.com/index.php?p...d=1&Itemid=332
Give us a call or email us with any questions about these or any of our other products:
-650-489-4415
-sales@macarbon.com
Sponsor
Join Date: Jul 2013
Posts: 934
Oh, Lane, you are the man!
Join Date: Jan 2016
Posts: 261
that's awesome!

how easy/difficult is it to do the install, since disassembly is obviously required
Owner
Owner
Join Date: Apr 2011
Posts: 84
Do you have instructions for setting up the paddles onto a steering wheel? I asked the factory/mso years ago about removing my paddles to paint them a different colour and they said the microswitches or something had to be setup on a machine otherwise there was a high risk of miss shifts?
One of the very early 12Cs I tried 'bounced' the paddles as they were badly setup so it changed up and then immediately down again!